Charlie Jackson
Director of Matrix Soccer Academy
Charlie Jackson co-founded the Matrix Soccer Academy in 2006 with successful entrepreneur and businessman Tahir Khan to change the landscape of footballer development from grassroots to professional. Coach Jackson is a UEFA Qualified Coach with experience coaching at the highest levels of football throughout Europe – currently Manchester City and previously; Manchester United, Blackburn Rovers, Ajax, Manchester City and the Scottish FA.
In 2000 Charlie Jackson was spotted by a talent scout from Manchester United and was asked to join the coaching team where he worked for 5 years alongside some great coaches including Rene Meulensteen. In 2005 Jackson joined Blackburn Rovers as their advance technical skills coach where he began developing the conceptual framework for what would become the Matrix Soccer Academy and coaching method. Later that year, after being noticed by UEFA Training Ground's Peter Sanderson, Jackson was asked to take part in UEFA's newly developed grassroots coaching initiative which led to the unprecedented DVD coaching project featuring Marcello Lippi, Benni McCarthy, Juan Riquelme, Diego Forlan and Roy Hodgson.
More About Charlie
In 2011 Charlie left Blackburn to be a part of one of Europe's premiere clubs in Manchester City and the newly directed development team where he plays an integral role in spotting and developing academy players to this day. In 2013 a lifelong dream came true for Coach Jackson when he was asked to assist his native Scotland in further developing performance coaches and aspiring international players through the science of Matrix for the Scottish Football Association.
In 2014 Charlie developed a National UK educational programme for aspiring sport science and football coaching students currently offered at Nelson and Colne College.
In 2015 Charlie implemented the next step in his dream by taking footballer development to the next level in the United States where he plans to develop professional and international caliber players while furthering grassroots programming and a lifelong love for the game that has been such a tremendous influence on his life.
Charlie has also worked at Moorland Private School since 2002 where he is 'The Football Academy Director', working his Matrix Methods Charlie has had huge success at the school producing academy and professional players. Since 2014 the school starting to compete at National and county level where the school has won 4 national titles and 5 county titles to date – a true testament to his proven methods.
Charlie resides in Lancashire, England with his wife Yvonne, daughter Salina and two dogs Ben and Henry.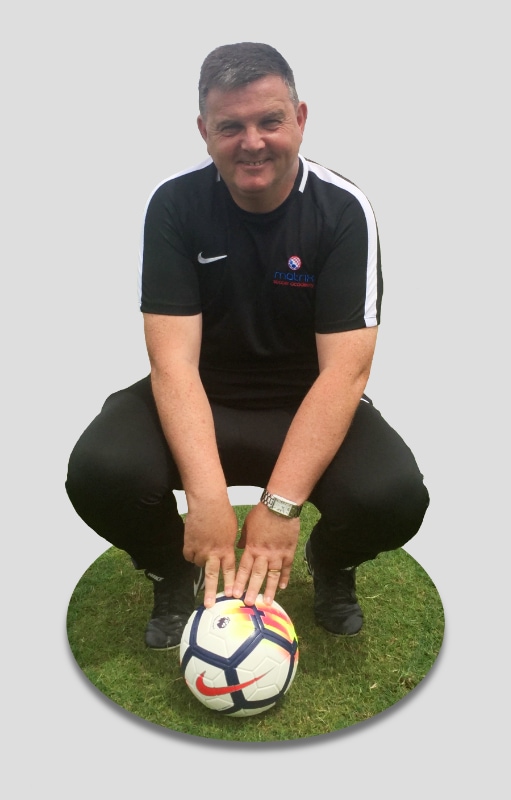 Bryan Watson
President – US Operations
Bryan Watson has over 15 years of experience as an entrepreneur, consultant and sports business executive.
His experience includes working for Charlotte based sports brand consultancy BrandThink where he worked as a consultant for NASCAR Members Club, the Atlanta Spirit (owners of Phillips Arena, Atlanta Thrashers and Atlanta Hawks), Charlotte Bobcats, Pittsburgh Pirates and Tampa Bay Rays. Watson also served as a consultant for Scheer Game Sports Development founder Carl Scheer (owner of the Charlotte Checkers, Greenville Grrowl, Carolina Rhinos, and managing partner of the Greenville Groove) in the development of a sports complex designed for the community of Greenville, South Carolina and a unique ballpark and arena complex in Macon, Georgia. Both projects were to include municipally financed ballparks for the Atlanta Braves wholly-owned single and double A minor league affiliates.
In addition, Watson founded several ventures to include the arena football 2 leagues Macon Knights. As CEO and founder of the Knights Watson developed a unique business model that included the design and construction of a $15 million sports complex and management company called SportsTowne.
More About Bryan
During Watson's tenure in the Arena Football League he negotiated the most advantageous lease in league history, achieved the Expansion Franchise of the Year award among eight franchises, and guided his team to the championship game in year three. He was also appointed to serve as the youngest member of the Executive Committee and elected as Chairman of the Finance Committee where he helped enhance the leagues operating model.
Mr. Watson serves as an Adjunct Professor of Business and Sport Management for Southern New Hampshire University's online degree program and teaches various aspects of the Shore Venture program at Wor-Wic Community College. He holds a BA in Political Science from Salisbury University, a Master's of Science in Sports Administration from St. Thomas University in Miami and an MBA with concentrations in finance and accounting from Columbia University in New York.
Bryan is a huge asset to Matrix due to his high level coaching expertise and experience. Bryan began his Matrix journey back in 2014 developing players to compete. In 7 years Bryan has developed numerous players and in June 6th 2021 our Matrix under 13s won the prestigious Maryland State Cup. Bryan demands the best out of his players and squeezes everything out of our talented bunch.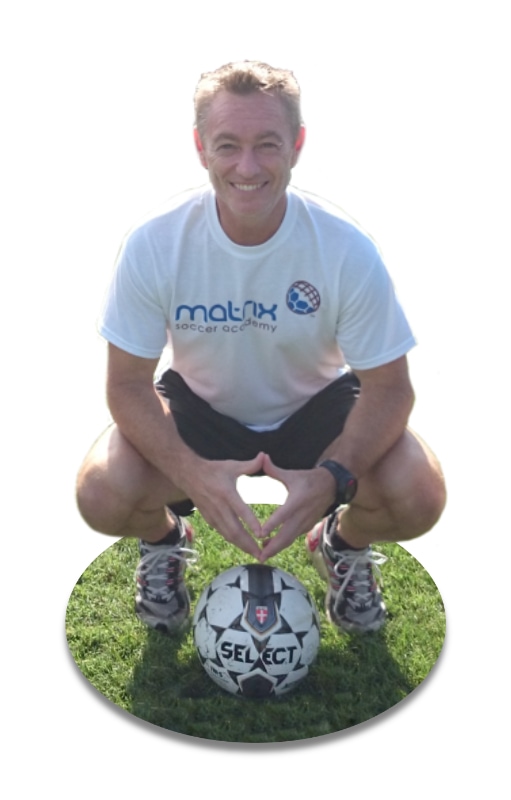 Stephen Tucker
Matrix Hong Kong Coach
Originally from Nottingham, England, Stephen has been coaching internationally since 2009 in both Canada and Hong Kong. During his time in Canada, Stephen acquired provincial qualifications from the Canadian Soccer Association and FIFA certified Instituto Brasileiro levels 3 and 4 licenses. It was also during this time that Stephen began his UEFA coaching qualifications. Further, Stephen worked with high-level regional players, as well as creating grassroots and elite youth player development pathways, age-appropriate curriculums, and running coach education programmes.
Looking to expand on his coaching career, Stephen moved to Hong Kong in 2015 with his wife where he joined Asia Soccer Pacific Schools and started working for the Hong Kong Football Club. At the Hong Kong Football Club, Stephen was the First Team Assistant Manager and Analyst for three years before moving onto his current position as the club and academy's Technical Head Coach. In 2018, Stephen became a UEFA A qualified coach, the same year that he was introduced to Charlie with the Matrix Academy. Eager to get on board with the Matrix approach having been impressed with how fast players develop, Stephen worked with Charlie to promote and open the Matrix Academy in Hong Kong in 2018 as its Head Coach.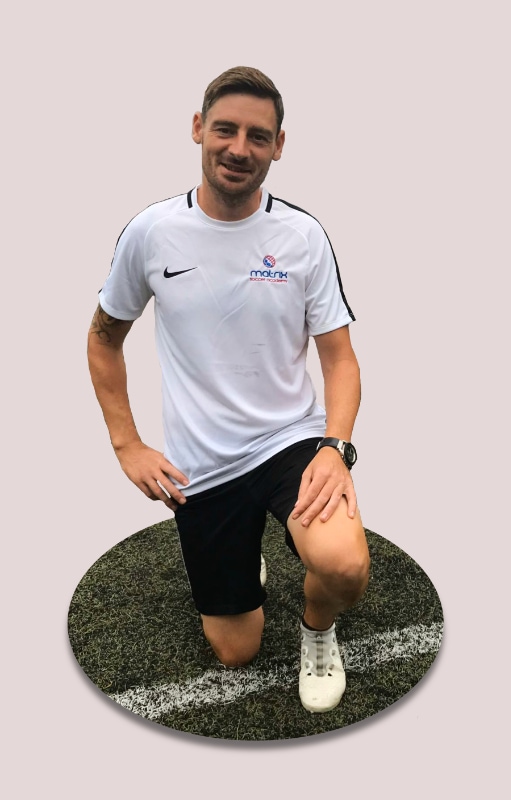 Ollie Quigley
Matrix Soccer UK Coach
A former pupil of Charlie and the Matrix way during an extended trial period for Manchester United, alongside the likes of Scott McTominay and Liam Grimshaw. Ollie went onto play for Blackpool and eventually for semi-professional side, Balham, during a stint living in the capital.

Now back in the North West with all focus on coaching, Ollie is a growing part of the Matrix team with a keen eye for the drills he went through as a youngster, even recognising ones first taught just under 20 years ago!

Ollie is the current Academy Secretary at Blackpool Football Club, and will soon have a Level 2 football coaching qualification with an immediate application for the UEFA B course to follow. Talent identification, personal training, nutrition and strength and conditioning are other areas Ollie is gaining qualifications in.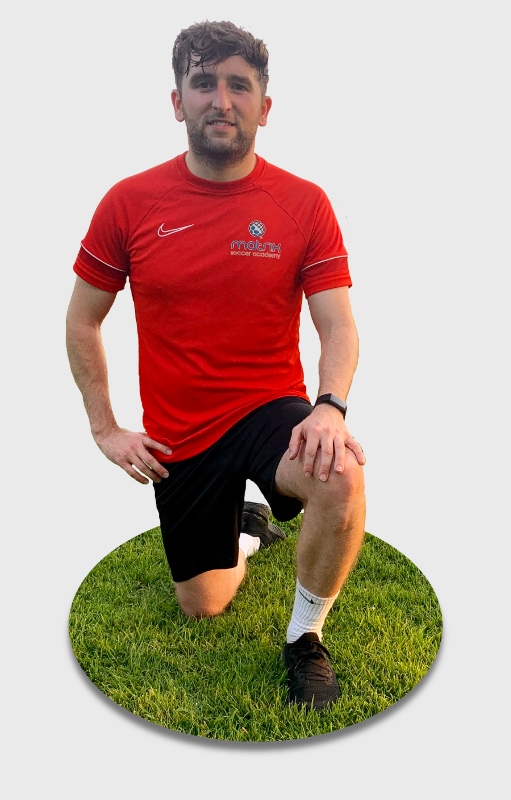 Ben Gooden
Matrix Soccer UK Coach
Ben Gooden is UEFA B licence Coach and a qualified sports teacher with BSc Hons Sports Coaching and Performance and
PGCE.

Ben has had 13 years Coaching experience, 7 of which in Women and Girls football. With previous clubs he's coached in tiers 5,6,7 and most recently Ben has been managing Chorley Women FC, who are in the Fa Women's National League (Tier4). Ben Incorporates  Matrix in to every session and also pre-game preparation on match days.
Ben coaches for the FA as part of the Regional Emerging Talent Programme for footballers with hearing impairment and cerebral palsy.
Ben is a valuable and respected member of Matrix due to his commitment for the cause and passion on coaching and making a difference.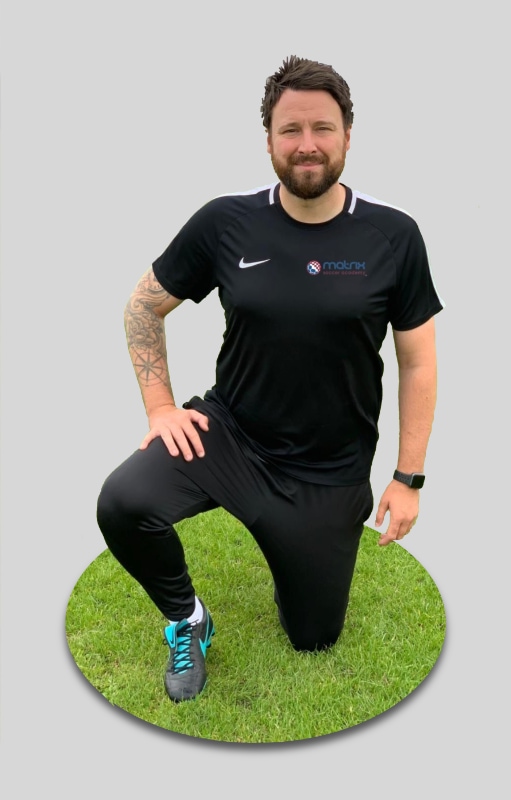 Would you
like to know more?
Get in touch with Charlie Jackson and he can explain more about all the services which Matrix offers.