Matrix Championed by UEFA
Football Grassroots at its Best
Charlie Jackson and his highly acclaimed Matrix Soccer Coaching is endorsed by UEFA.COM and heavily featured on the UEFA Training Ground website.
Past and present World class managers including Jose Mourinho, Arsene Wenger and Sir Alex Ferguson with exceptional players such as Zidane, Van Basten, Ronaldo, Lionel Messi, Wayne Rooney and Xavi all feature and contribute to make UEFA Training Ground the best football grassroots website in the World.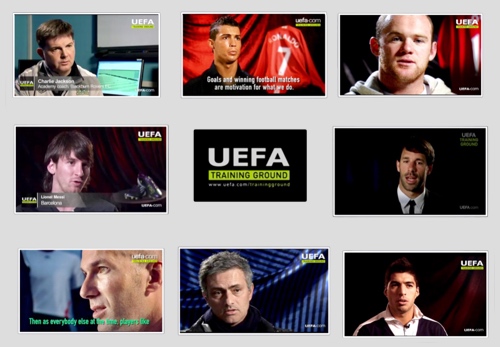 France 2000 Drill
Zinedine Zidane
A training routine focused on movement, passing and dribbling inspired by the winning France team at UEFA EURO 2000.
Spain 2008 Drill
Passing and Movement
With a midfield that included players like Xavi Hernández, Cesc Fabregas and Marcos Senna, Spain won UEFA EURO 2008 with a supreme passing and movement game. Now you can add some of that style to your team with a drill based on that Spanish side.
Netherlands 2000 Drill I
Team Mate Awareness
A training routine inspired by the winning Dutch side from the 1988 European Championship.
Netherlands 2000 Drill II
Fluid Passing
Extension of the Netherlands Drill I. Passing routine inspired by the classic Dutch side from 1988.
Netherlands 2000 Drill III
Player Movement
Further extension of the Netherlands Drill II with extra players. The third drill in a series of routines based on the European champions of 1988.
Would you
like to know more?
Get in touch with Charlie Jackson and he can explain more about all the services which Matrix offers.